| | | |
| --- | --- | --- |
| No. | Descruption of Goods | Fabric Width/mm |
| SKS-567A | Fabric Inspection & Rolling Machine | 1800-2500 |
| SKS-567B | Big Roll fabric inspection Winding machine | 500-1500 |
| SKS-567C | Large Package Inspection Machine | 1800-3200 |
| SKS-567D | Tension-free Inspection Rolling Machine | 0-400 |
| SKS-567E | Edge Cutting Inspection Rolling Machine | 1800-3500 |
| SKS-567F | Auto Edge Allignment Rolling Machine | 1800-3800 |
| SKS-567G | Tubular Fabric Inspection Machine | 1200-1420 |
| SKS-567H | Open Width Tensinless Fabric Inspection Mc | 2300/2500/2800 |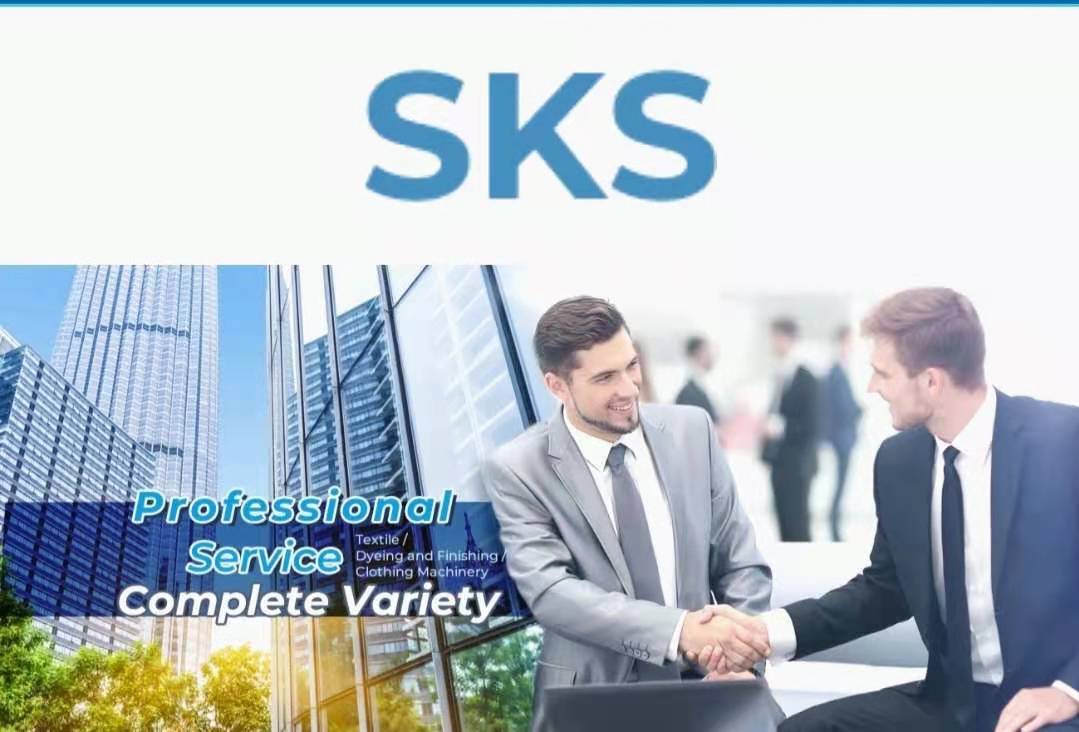 #SKS-567, Infrayed Ray Fabric Inspection Machine + Fabric Rolling Device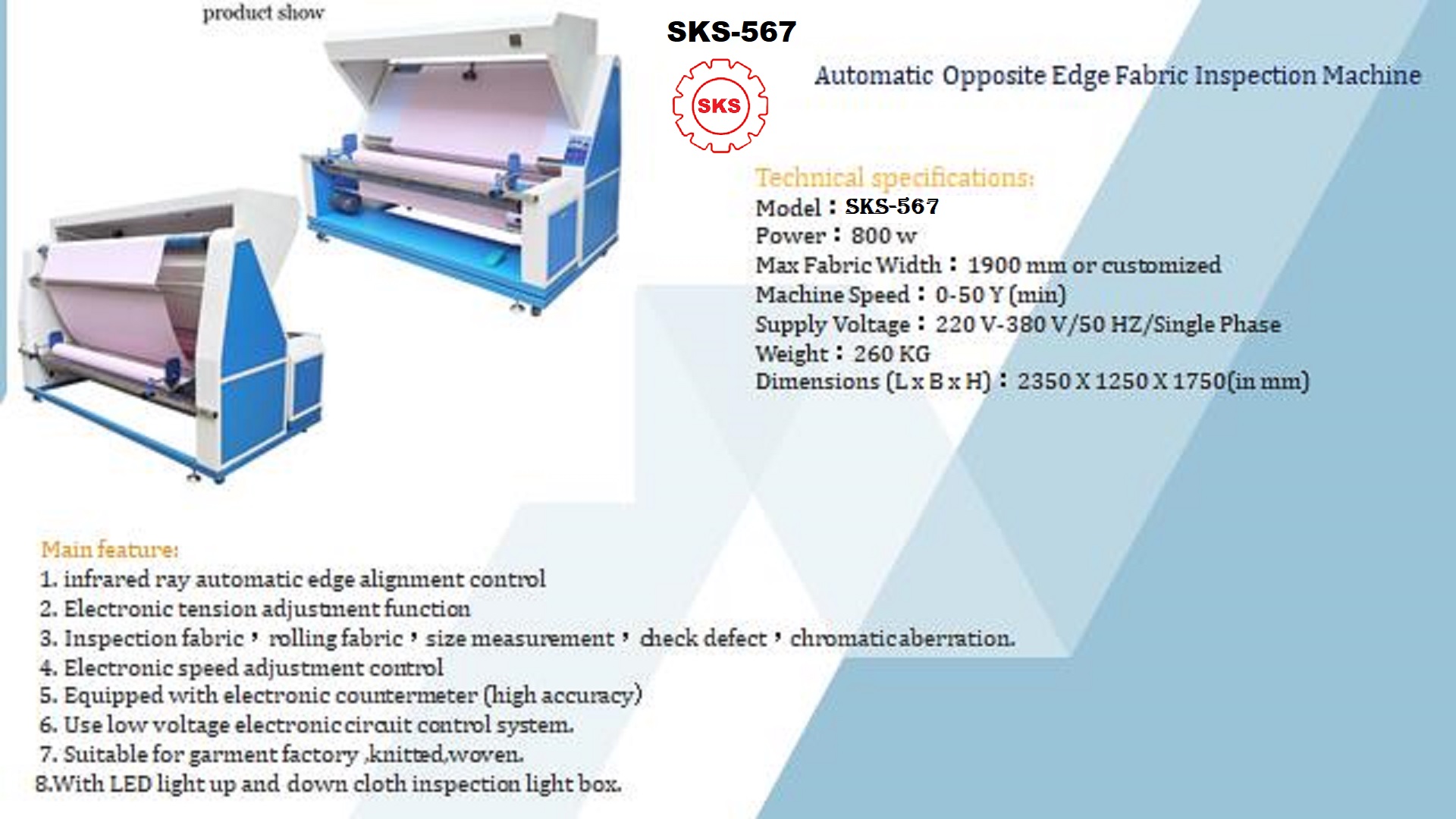 | | |
| --- | --- |
| ① | This machine is suitable for inspection,rolling,measurement and rolling of knitted cloth. |
| ② | Equipped with a magic eye for automatic edge tracing. |
| ③ | It has a specially designed eletronic tension control,adjustment device for rolling and unreeling,and is attached with cloth adjusting device,which can flatten the edges of cloth. |
| ④ | Equipped with variale frequency speed control for this machine. |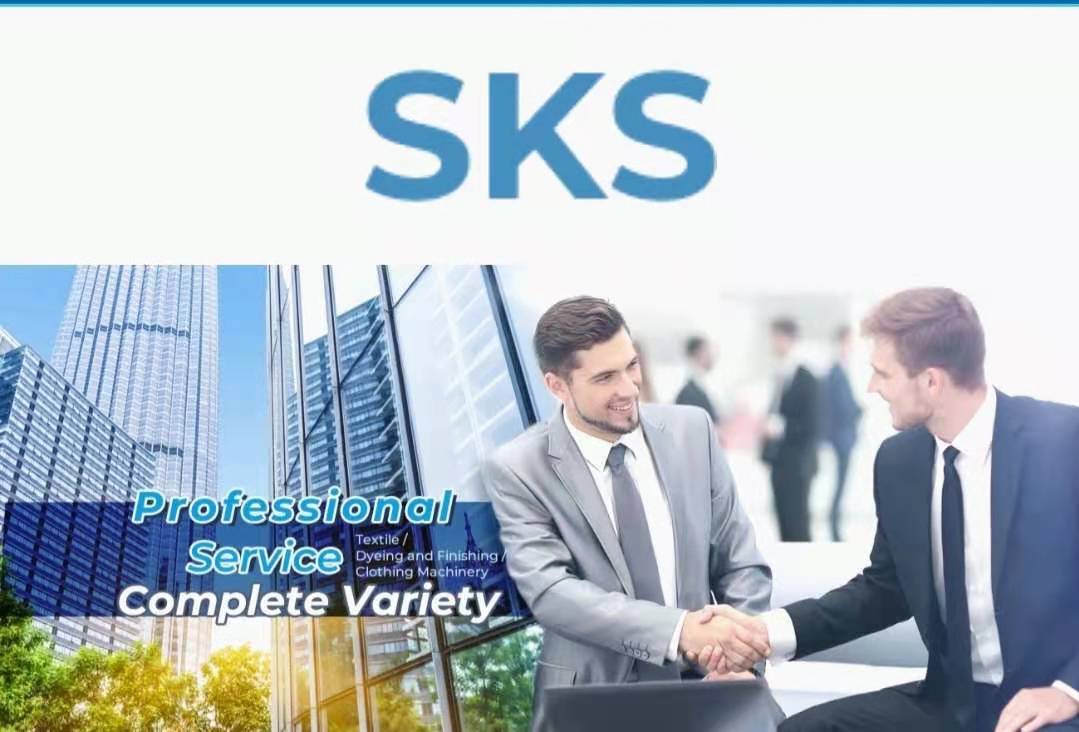 #SKS-568, Big Roll fabric inspection Winding machine
Short Description: The Cloth Inspecting Machine/Fabric Rolling Machine Are Used In Garment Factory, Man-made Fur Mill, Artifical Leather Factory. It's Allows Feed The Fabrics In Circular Or Folded Way. This Machine Is Especially Good For The Inspecting And Rolling Of The Polyester Fabric, Microfiber Fabric, Polyester Fiber Fabric,Satin, Cotton fabric, ETC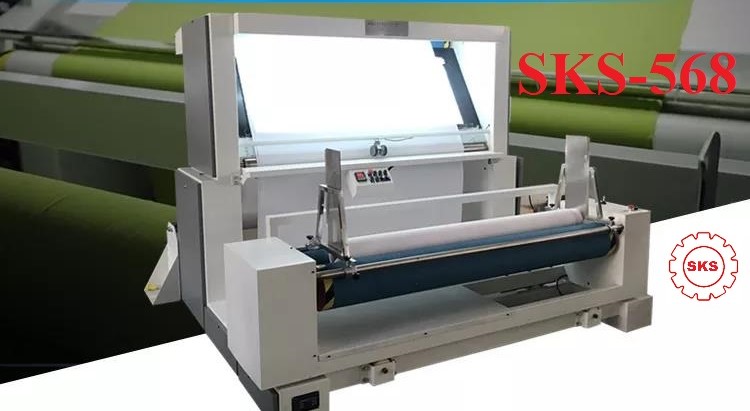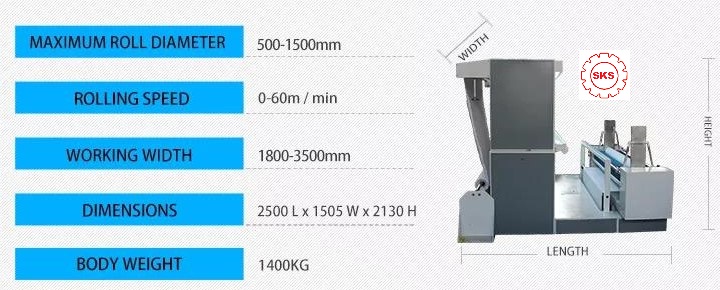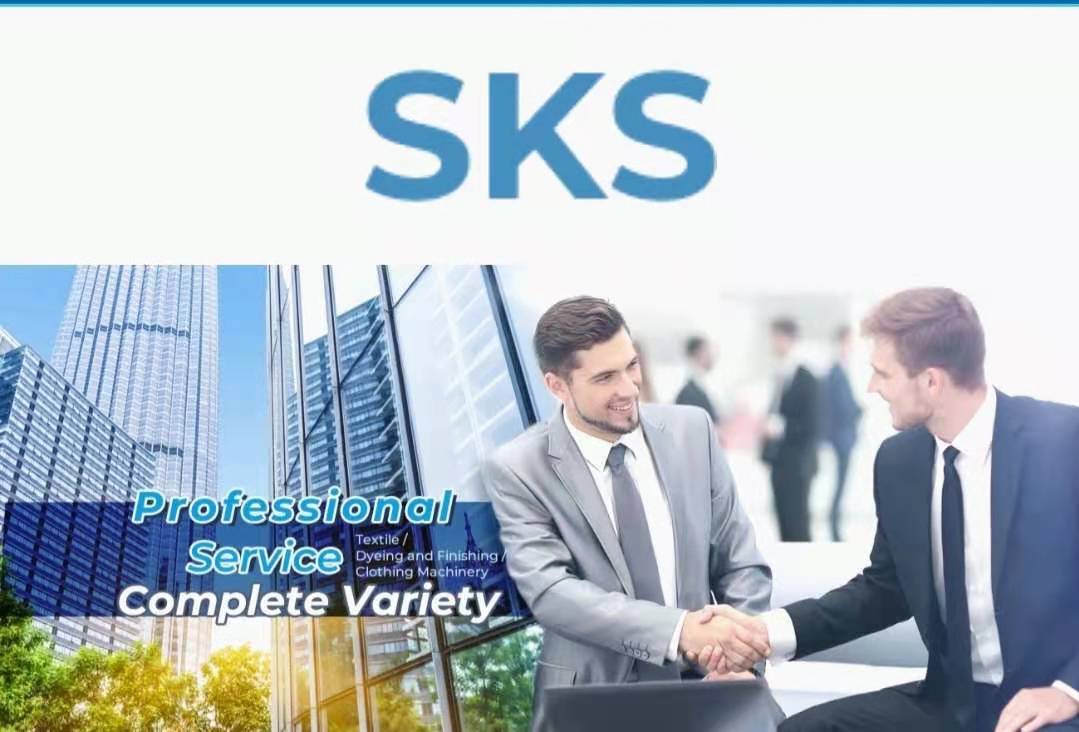 #SKS-569, Big Package fabric Cloth inspection machine
The fabric inspection machine is suitable for high-grade fabrics and special texture fabrics of the textiles mill, yarn-dyed fabric mill and dyeing mill. Under the traditional operation way it is easy to produce quality problems such as wrinkles, take off etc.This machine can improve all these above.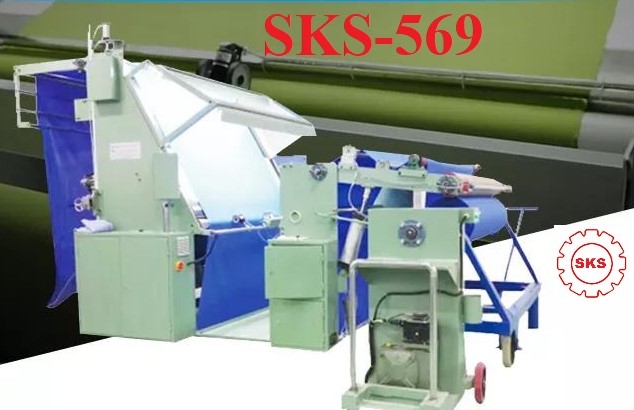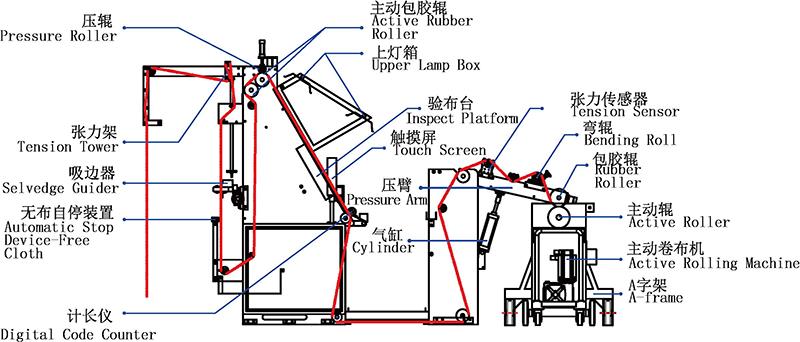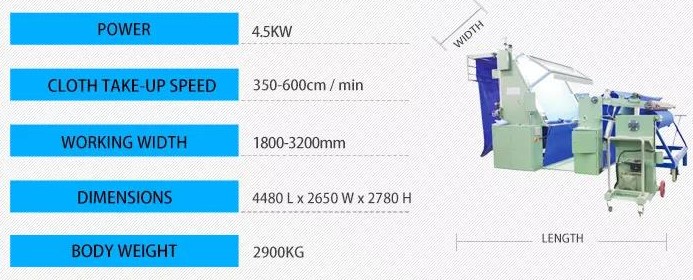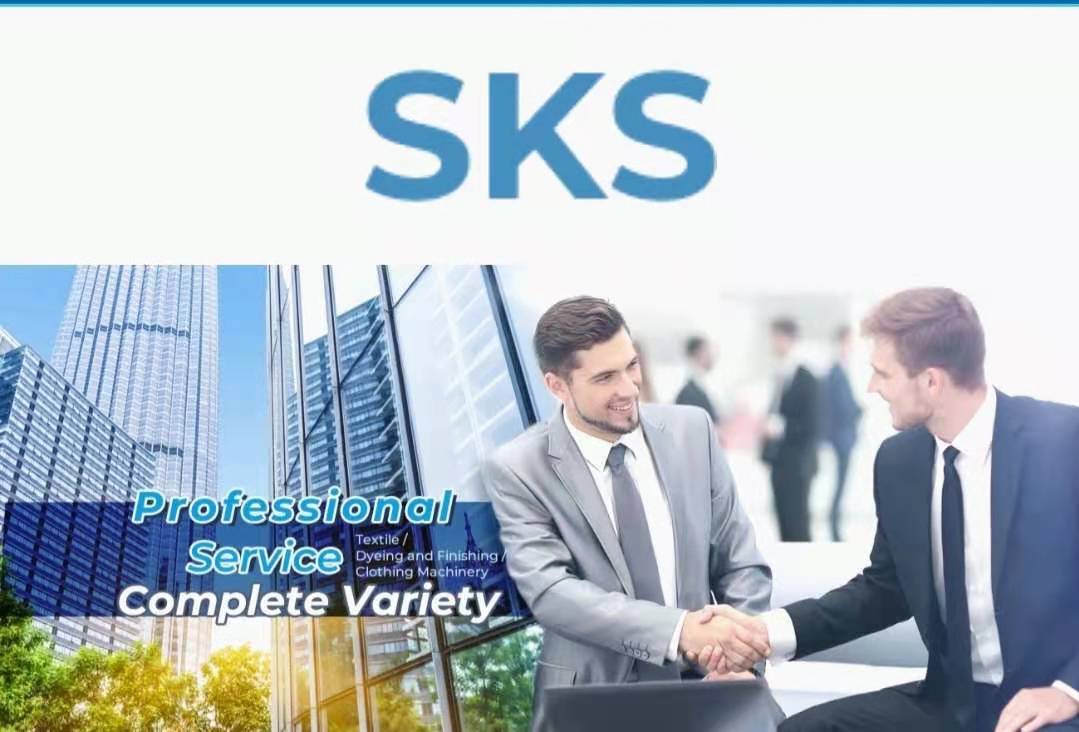 #SKS-570, Tension Free fabric Cloth inspection machine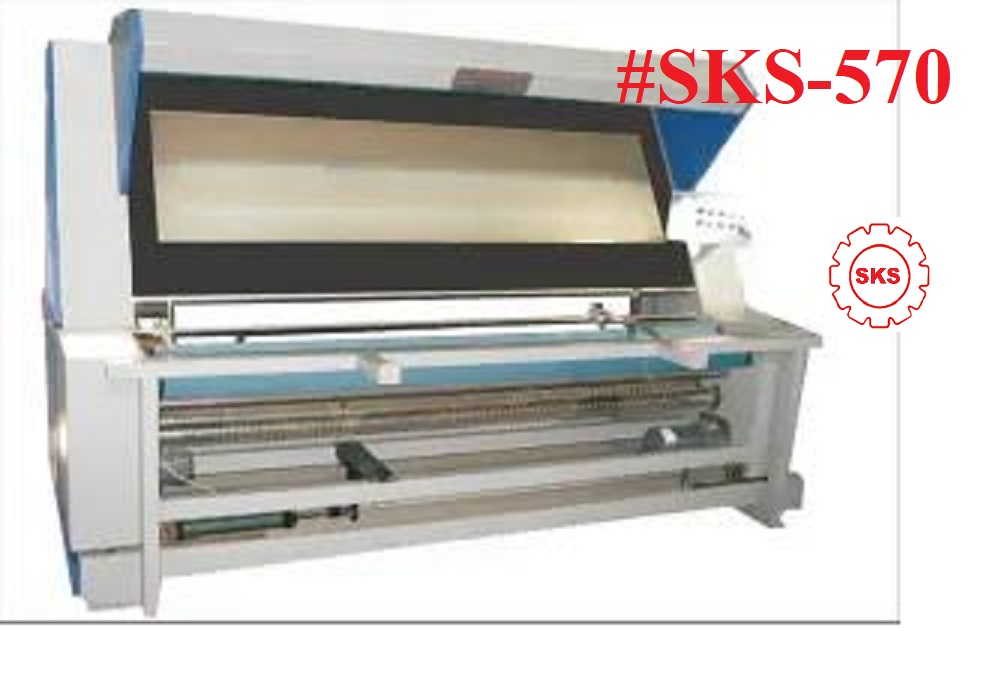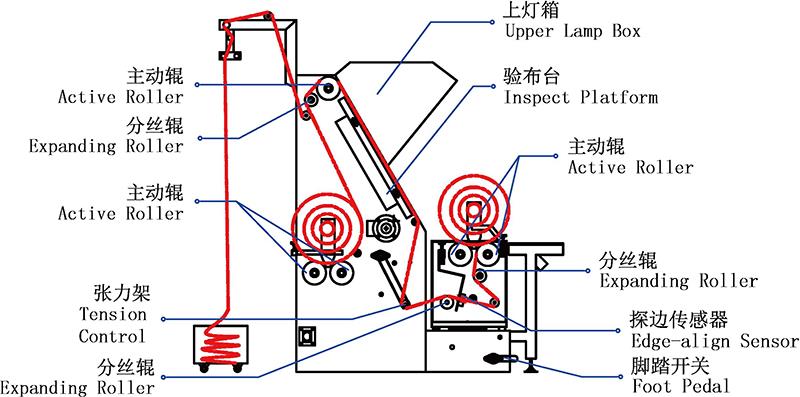 Technical Features:
1. It is suitable for check the high-quality open-width knitted fabric, and circle winding package used.
2. Synchronous control cloth and winding speed, make the cloth inspecting process under tension-free condition to completed, make the pull and tension to the lowest, the phenomenon of cloth shrinks can't occur
3. It can direct control the forward or backward of the fabric by hand
4. Taiwan hydraulic automatic tracing edge alignment device can reach to cloth winding accurately
5. At the tilting angle 55~60 degrees to horizontal cloth inspecting within inspection area, it's own two-way lighting(up and down),realize to favorable lighting and inspecting environment
6. Equipped with electronic length counter(show length and code),which can count length accurately
7. Continuous variable speed

Technical Parameters:
| | |
| --- | --- |
| 1、Max. diameters of winding cloth | 400mm |
| 2、Speed of cloth winding | 0~80yard/min |
| 3、Weight | 1300 KG |
| 4、Power | 2.2 KW |
| 5、Operate area | 1350(L)*2950(W)*2200(H)mm |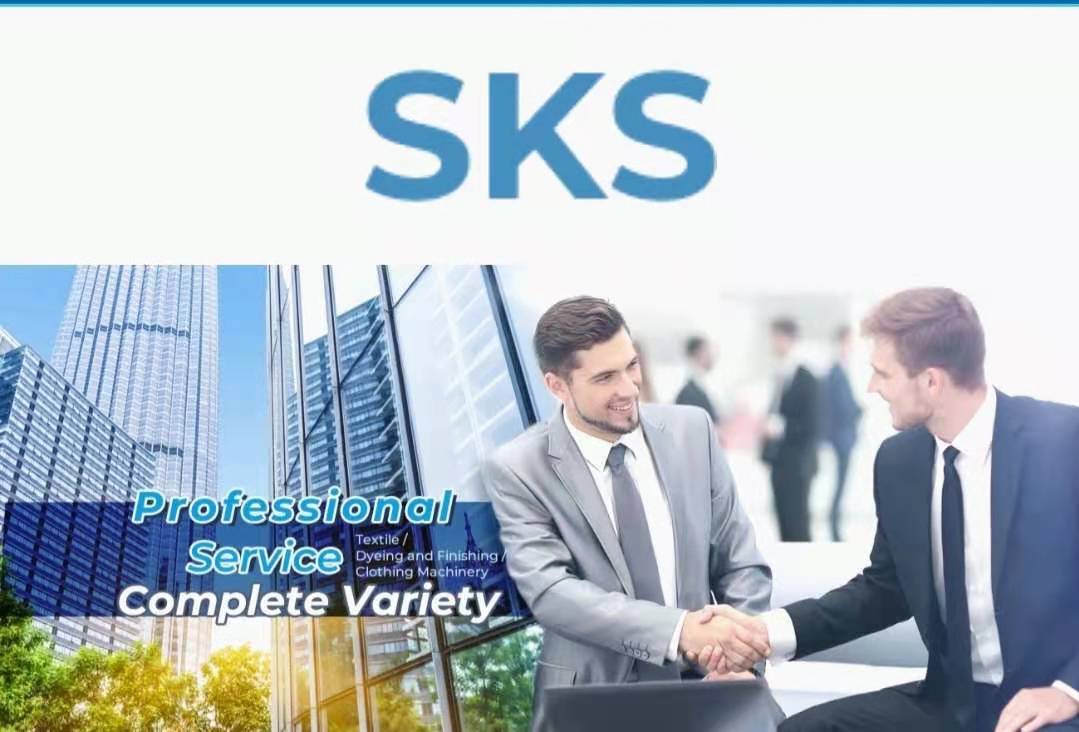 #SKS-571 Edge Cutting Inspection Rolling Machine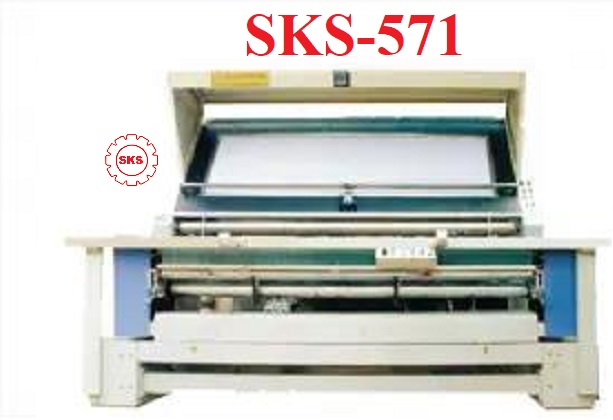 Technical Feature:
1、Good performance with high quality
2、Use double-frequency control to adjust tension, both thick and thin fabric can adapt
3、Equipped with a photoelectronic exploration device, to which promote edge accuracy
4、Use computer counter to calculate the length and the yard of fabrics
5、Adopted the light device to enhance inspection quality
6、Clod cut, the aerodynamic configuration cold cutter, through the air pressure to control, adjust the knife pressure-thick, thin may apply
7、Hot cut, targeted vertical electric heating knife, only 180W single/double-throw power control and temperature control regulator combination, in accordance with requirements of self-regulation and control settings
Technical Parameters:
| | |
| --- | --- |
| 1、Effective width | 1800mm~3500mm(optional) |
| 2、Winding diameter | 480mm |
| 3、Take-up speed | 0~60 m/min |
| 4、Correcting category | Hydraulic typephotoelectric probe |
| 5、Tension adjustment | 0~400n |
| 6、Power | 1.5~2.21kw |
| 7、Weight | about 1000KG |
| 8、Dimension | 1350(L)*2800(W)*2000(H)mm |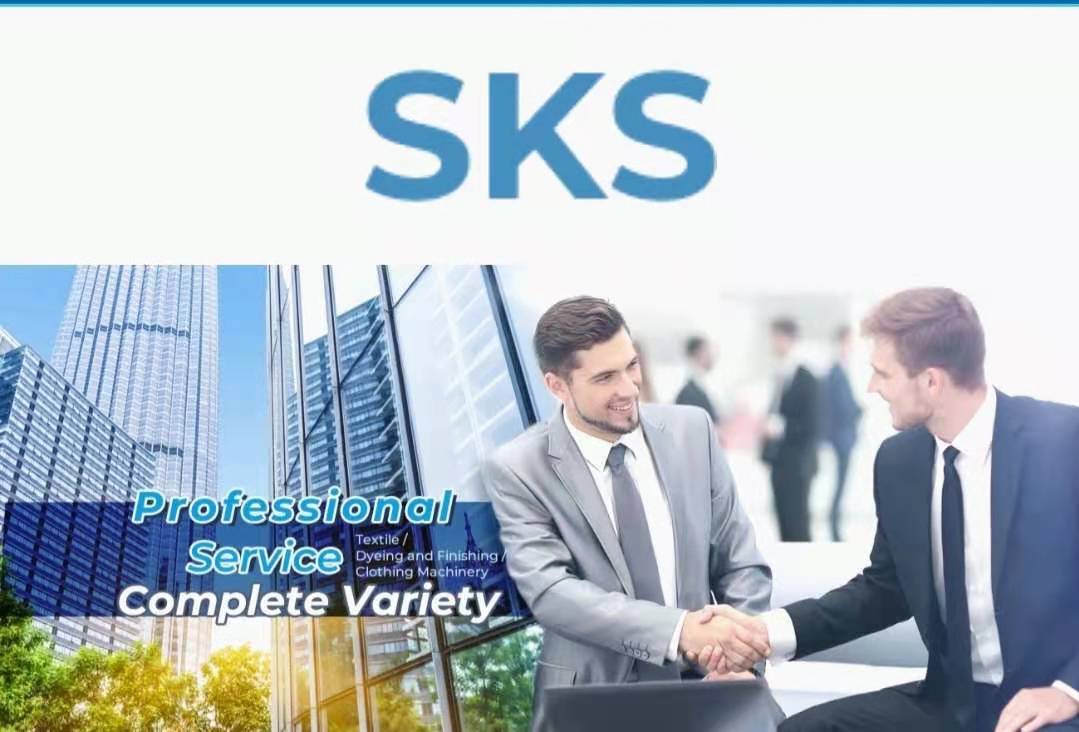 #SKS-572 / Auto Edge Inspection Allignment Rolling Machine
It is suitable for inspecting and rolling all kinds of finished grey cloths(including knitted and shuttle-woven grey cloths)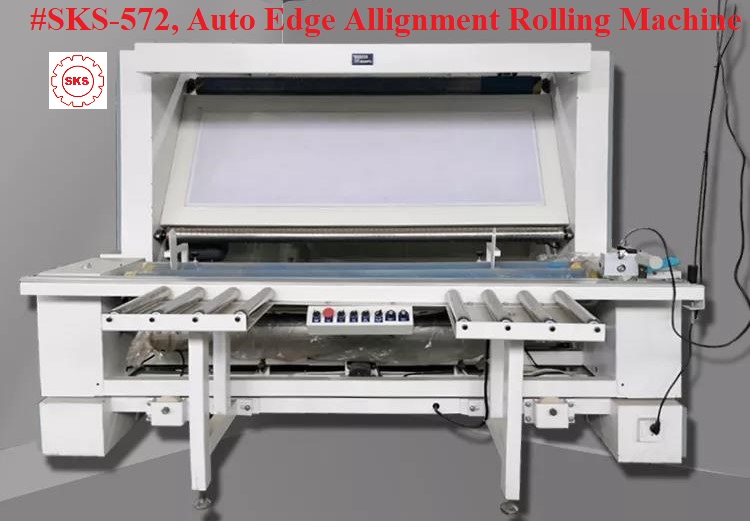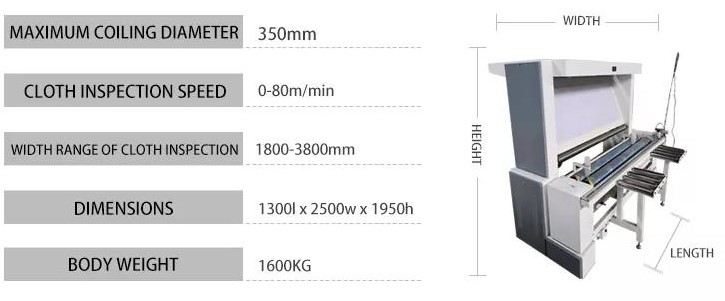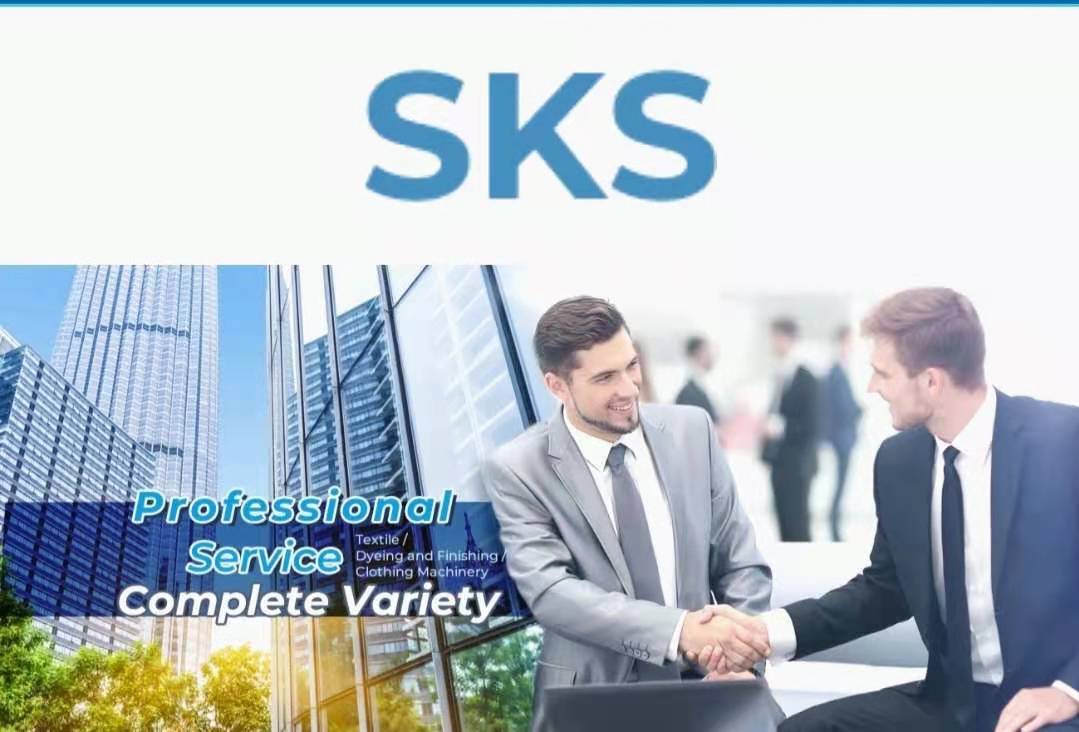 #SKS-573 / Tubular Fabric Inspection Machine
1,Tubular fabric inspection machine is designed for inspecting cylinder fabric.
2,Wrapping fabric delivering device provides a convenient and a less tension way to withdraw the fabric roll. Tension is adjustable by the tension control device.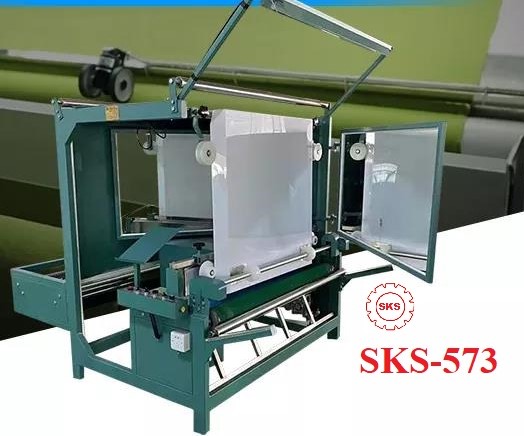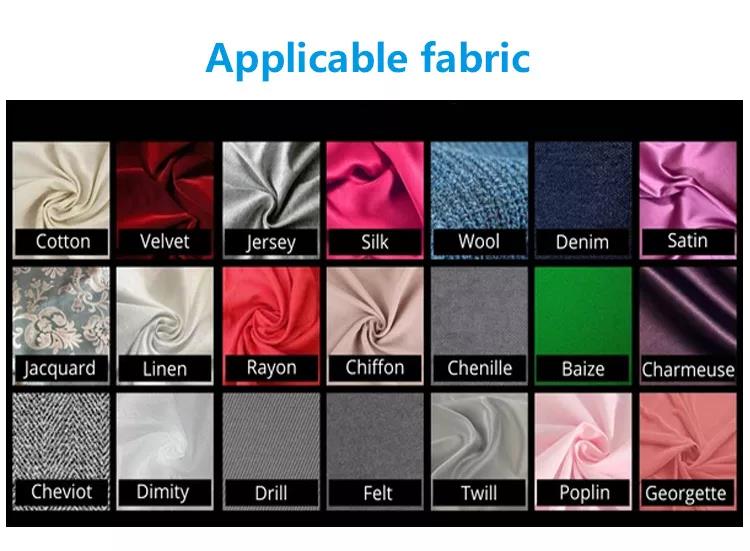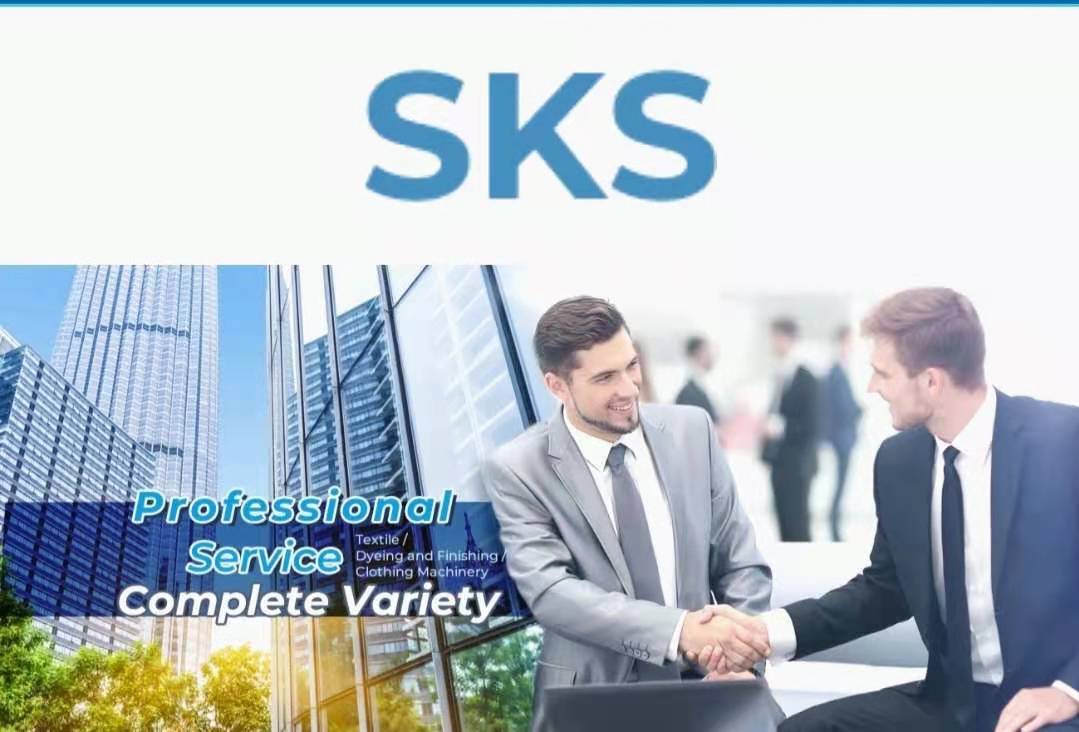 #SKS-574/ Open Width Tension Less Fabric Inspection Machine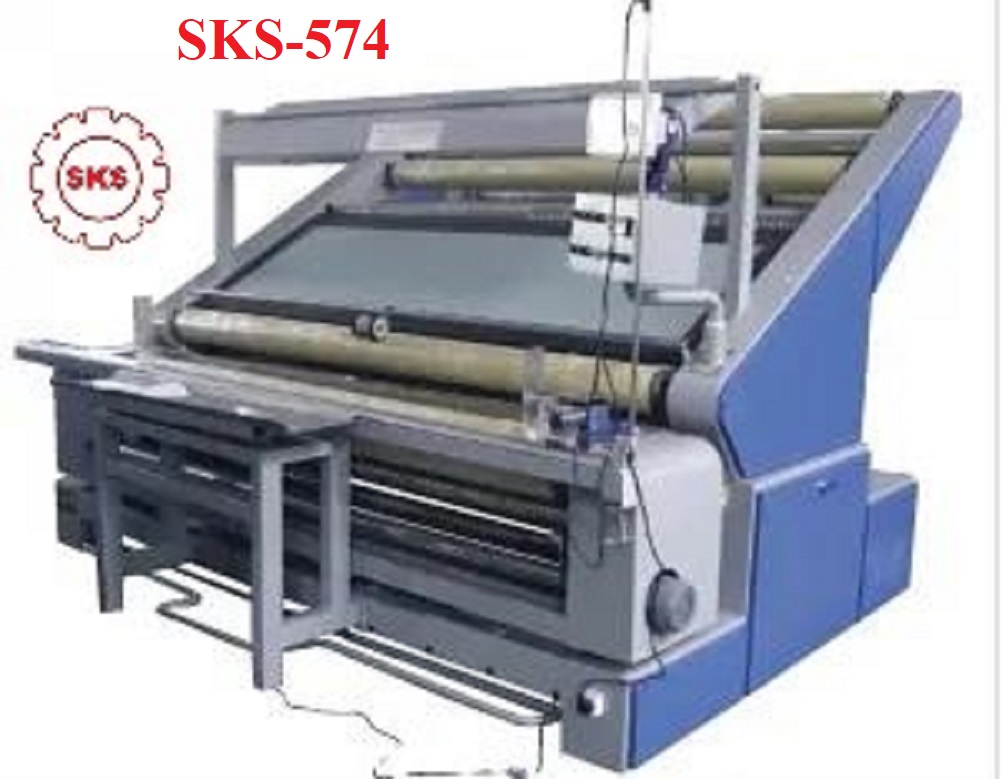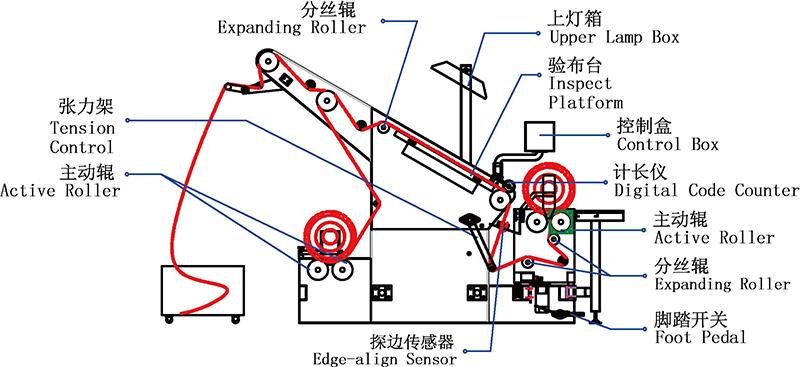 Technical Features:
1. It is designed for inspecting high quality open-width knitted fabric.Open-width entering device with fabric tighten frame. Rolled fabric entering device, Tension pole adjust the speed in forward and backward, cause the fabric inspection finish without tension.
2. Inspection platform with lighting box installed, the diagonal design makes the inspection work easier , more simple, and increase work speed.Electronic length calculator calculate the length of the fabric accurately.
3. Electric eye tracing edge device, cause the fabric upload neatly.
4. Machine top lighting device. Double roller uploading device.Fabric end automatic stop device.
5. Blowing device. Shape fabric rolling stretching roller, stretch out the fabric.
Technical Parameters:
| | |
| --- | --- |
| 1、Standard work area | 2300mm, 2500mm |
| 2、Speed | 0~60m/min |
| 3、Size | 2700(L)*3000(W)*2000(H)mm |
| 4、Total power | 2.5KW |
| 5、Weight | 1350KG |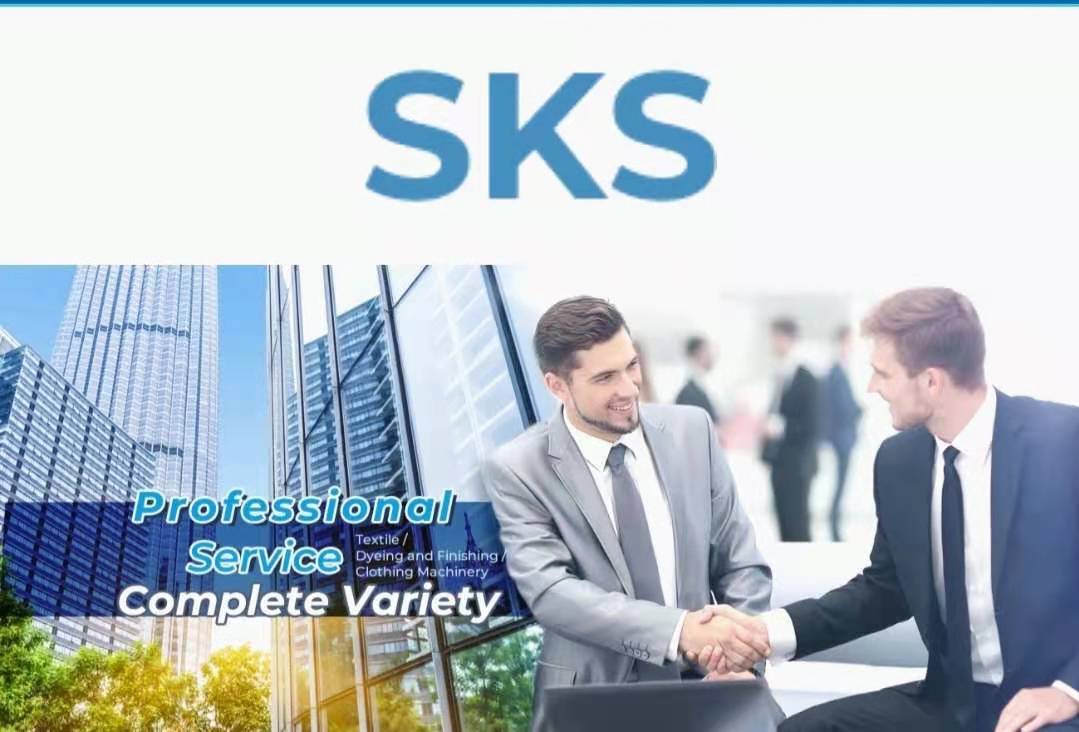 ---