Our company is a part of a large diversified group having its operations in Taiwan & ASIA. We are one of the leading manufacturer with exporter of Textile & construction equipment and its related commercial products, including mechanical, electrical, instrumentation and many other areas.

With highly skillful experienced people, group strength and associates in other countries, we are a dependable supplier who can offer a complete package of
equipments for textile & construction & metal & Power industry. All our machinery with CE certification, UL . Therefore, Europe and America buyers can import our products, past 26 years, we sold products to France, Italy, Poland,Russia,..etc.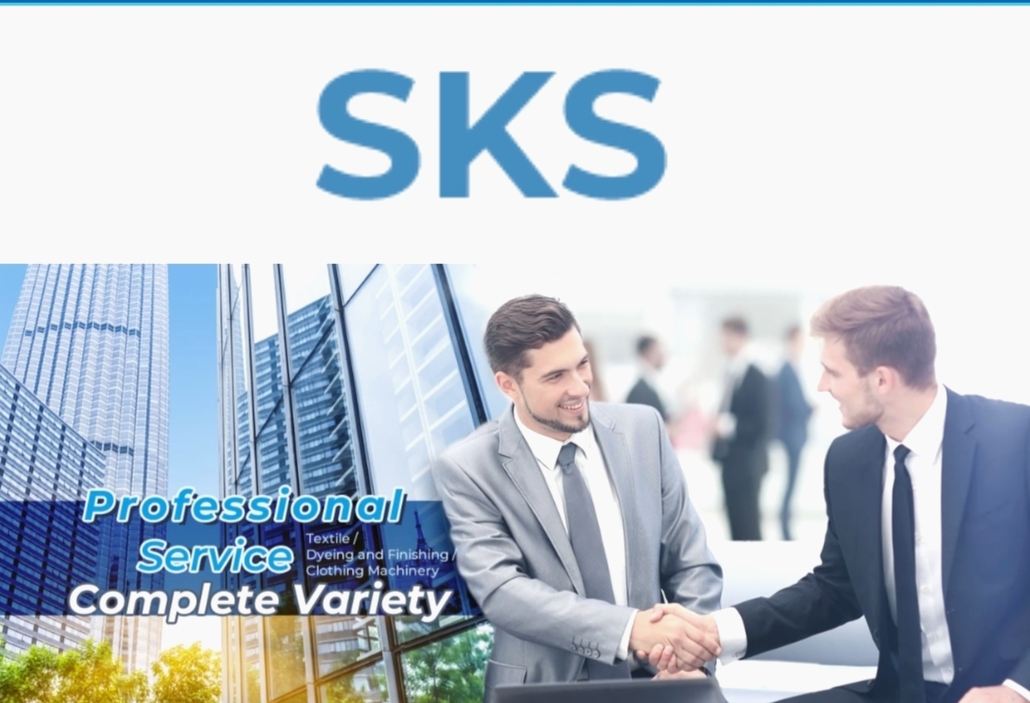 #SKS-569
/
Fabric Slitting Machine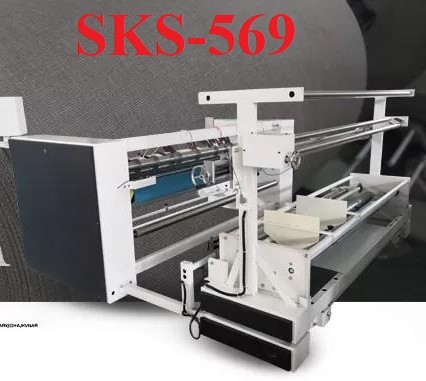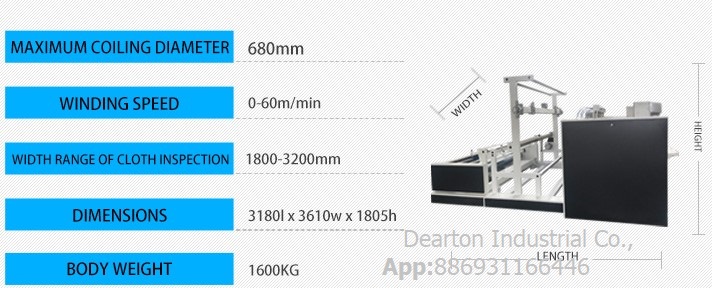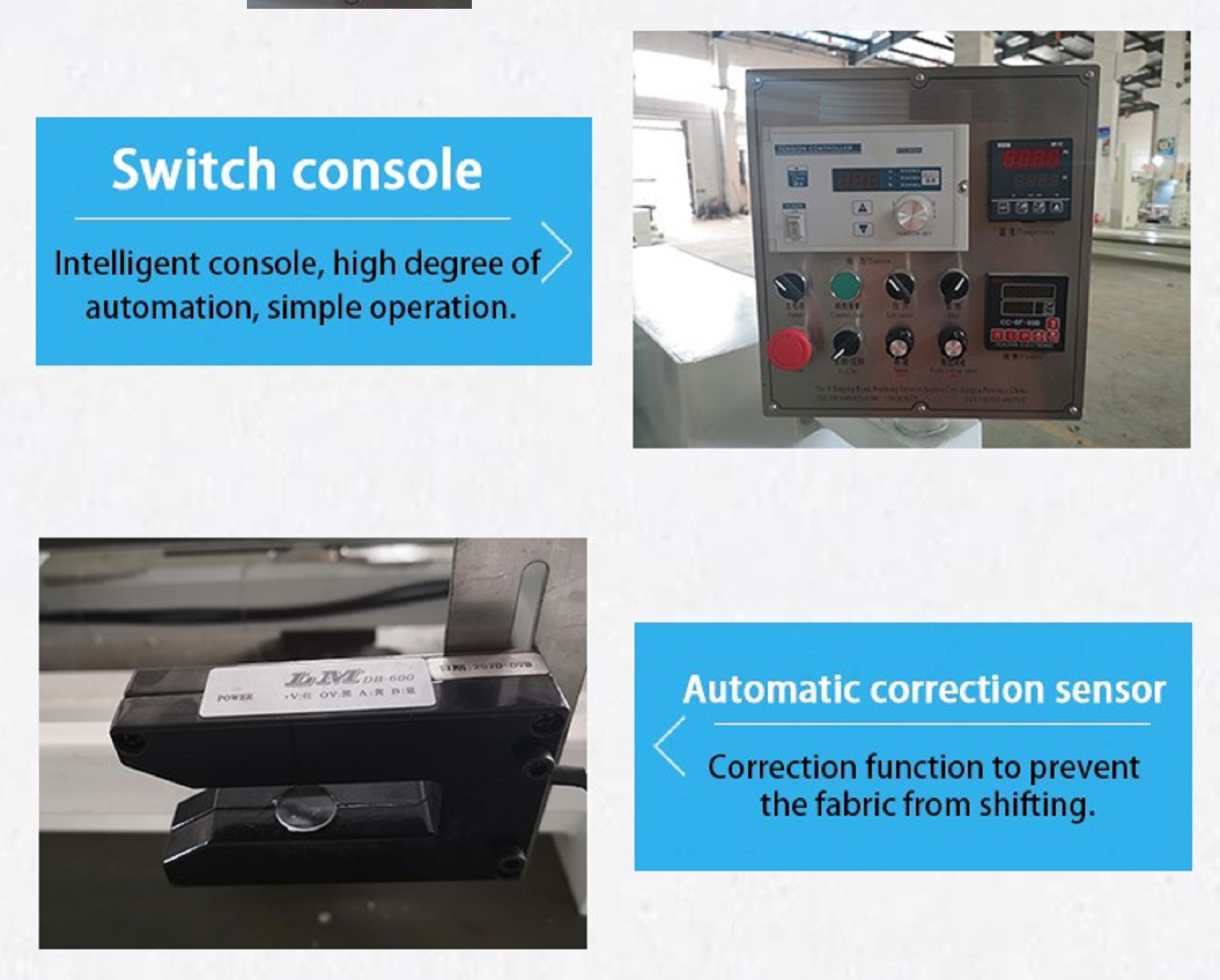 PARAMETER:
| | |
| --- | --- |
| ① | The use of welding steel-box structure, easy safe to operating. Electric control box as a separate part. |
| ② | The unwinder is set on the motor screw rod trolley controlled by photoelectricity, which is convenient to control the width of the cutting edge, and the error is no more than 5mm. |
| ③ | Both equipped with waste-coiling device,save labor,increase production efficiency, coiling tension manually adjust the size of significant tension. |
| ④ | Coiling axis from the cylinder to promote gripping,work by the vapor-liquid onversion locked,solid support,with a footswitch au-xiliary control, handling convenience,reduce the intensity of the work. |
| ⑤ | Using hydraulic carrying knives,knife-easy control. |
| ⑥ | Use of computer-long,high-precision measurement long. |
| ⑦ | Through magnetic manual control,the use of double magnetic clutch and a fixed magnetic clutch,arbitrary regulation,cutting the fabric tension and crimp tension-thick, thin fabric can be,the wide scope of application. |
#SKS-569 is widely used in the production area of lace, garment processing, embroidery, banners production, packaging, gift processing, footwear processing, packaging etc.
Technical Feature:
1. The dimension of stripes can be adjustable convenient and efficient. You can choose any width of each section on the basis of minimum width. 2. The vertical structure of slitting cutter is humanistic. It can make the influence on heating caused by slitting process reduce to a minimum 3. Equipped with an electronic controller, this device can control the cutter heating , and also heighten an effect of energy saving
4. The machine adopts infrared rays guiding system to make the fabrics slitting neatly and trimly and decrease scrap to a great extent
5. The cutter of this machine is made of tungsten steel alloy, with which after special processing. The machine can be using much longer time by these cutters. At the same time of slitting, temperature can steal the fabric edges, so that no excess fabric irregular edges produced and no charred fabric leave
6. The newly designed feeding basket together with a transition device which could make slit conveniently both for rolled and flat form of fabrics
7. Compact mechanical design of the machine make greatly reduced footprint, thus saving space
Technical Parameters:
| | |
| --- | --- |
| 1. The maximum cutting width | 1800-3200 mm |
| 2. The minimum slitting width | 10 mm |
| 3. Maximum cutting speed | 0-40m/min(depend on the material) |
| 4. Power | 5kw(depend on the amount of cutters) |
| 5. Voltage | 380V |
| 6. Weight | 1500 kg |
| 7. Dimension | 2800mm×2400mm×1600mm |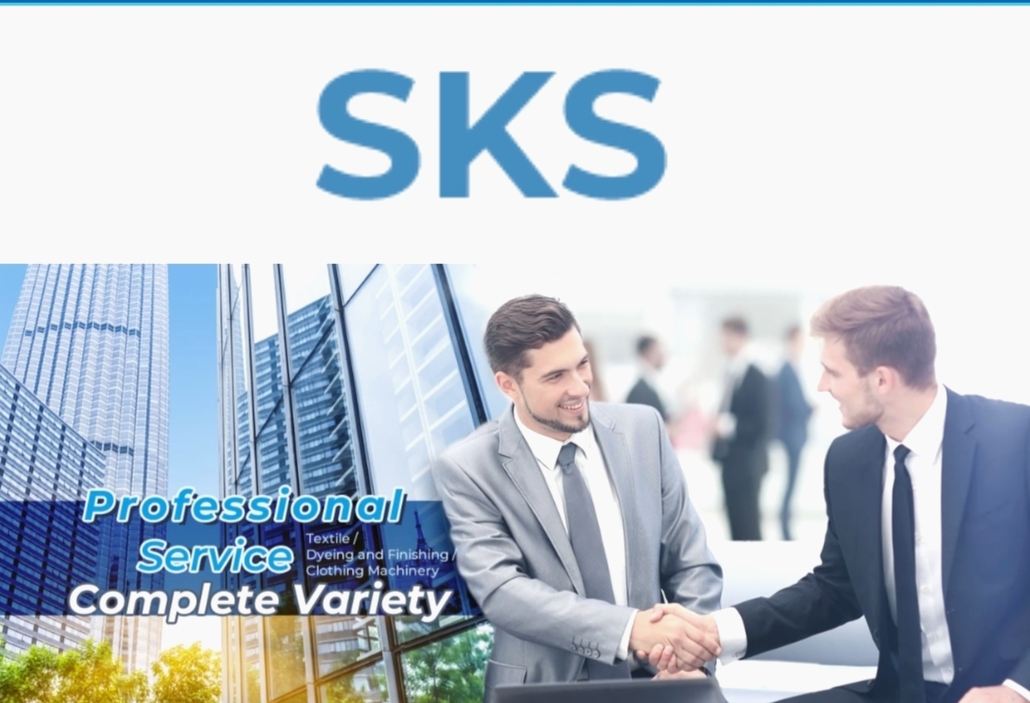 SKS-569A: Fabric Ultrasonic Cross Slitting Machine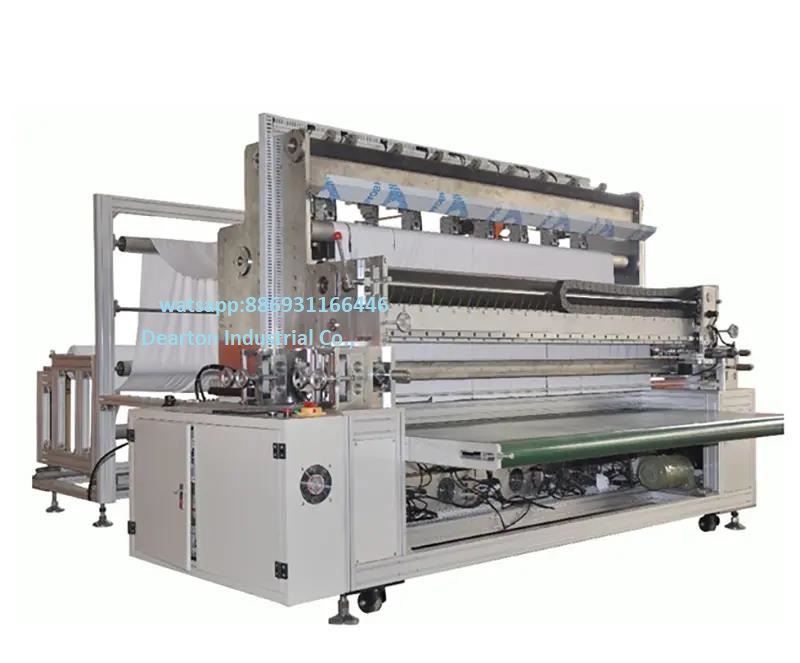 This machine adopt high quality ultrasonic system, slitting and rolling on the nonwoven, soft edge-cutting, edge firm, don't fade, no cloth drop, save the raw waste approx. 40%. Compare to the traditional craft, this machine with high efficiency, fast speed, and easy operation, replace the mold at any time. Meanwhile, this machine can do straight cutting, embossing cutting and flat cutting for more options. Size of the machine is also adjustable.
Technical Features:
1, The process of slitting and cutting work at the same time, this improve the productivity and supplement the domestic vacancy.
2, Feeding automatic: not the barrel, the entire material was added to, the use of magnetic tension control, correcting system automatically adjusts to ensure smooth feeding, cutting edge does not change color, cross-section not Alice, slitting width can be adjusted reasonable length
3, Ultrasonic slitting and crosscutting machine adopt the advanced ultrasonic transducer from Germany, strong effort.Instead of traditional cutting craft and make the automation come true.
4, The plastic roller is made of imported rubber, the surface with a precision cylindrical grinding machine, no deformation when feeding the material.
5, Ultrasonic crosscutting system adopt the original SMC Pneumatic components, long life, high precision
6, This machine adopt the servo from Japan, fast speed, work well
7, High precision of cutting length, automatic feeding, computer counting, speed, length slitting width can be adjusted
8, This machine adopt Taiwan import magnetic particle clutch device to make the tension constant
9, Slide adopt import Taiwan brand, no deformation, life long
10, According to user's needs of tablecloth width, this machine can produce more than one table at the same time
Parameters:
| | |
| --- | --- |
| 1,The biggest raw width | 1600-3600mm(Customized) |
| 2,Effective cutting width | 30㎜-3600㎜ |
| 3,Max. unreeling diameter | 800㎜ |
| 4,Max. rolling diameter | 600㎜ |
| 5,Power | 8 KW |
| 6,Speed | 0–60 m/min |
| 7,Voltage | 380V,50/60Hz |
| 8,Size | 2850mm*4200mm*1550mm |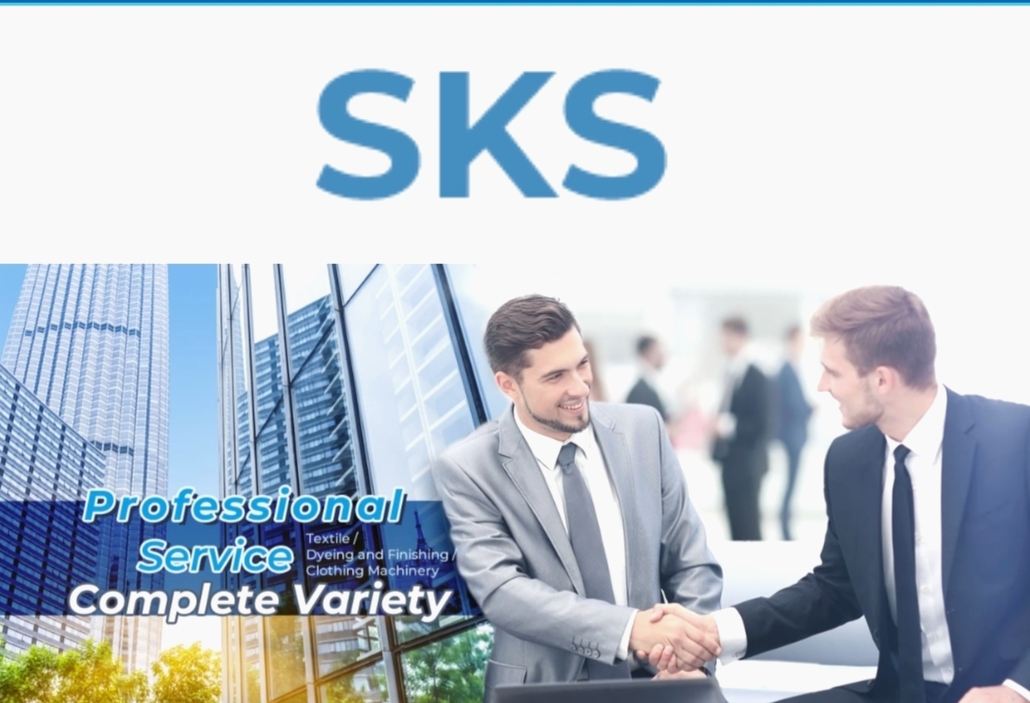 SKS-569T: Terry Fabric Slitting Machine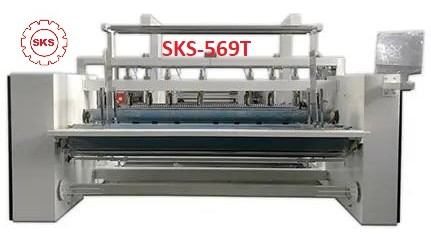 1. The structure with steel plate welding, compact structure and safe operation.
2. The shaft install on the motor screw car,convince for controlling the width of the trimming edge.
The error is not more than 5mm.
3. Using Germany imported pneumatic knife, which controlled and adjusted by the air pressure.
Both thick thin fabric can be applied, high precision and easy control.
4. The use of computerized length meter to realize the counting and rewinding speed digital display, length fixing, perimeter setting, meter and yard conversion functions.
5. Waste edge winding devices setting on both sides to save labor and increase production efficiency.
Technical Parameters
| | |
| --- | --- |
| Working Width | 1800-3200mm |
| Maximum winding diameter | 680mm Can be customized |
| Winding Speed | 0-60m/min According to fabric thickness |
| Machine Power | Depending on the width of the fabric |
| Size(L*W*H) | 3180(L)*3610(W)*1805(H)mm |
| Voltage | 380V 50Hz Can be customized |
| Weight | 1600Kg |